A Dog Story (and Their Owners)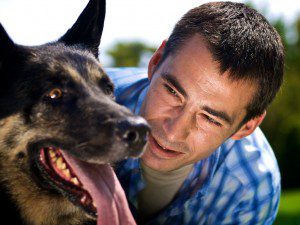 These images are for a story about dogs and their owners and people who are involved in working with them.
The main picture is of Santi, a dog psychologist, I photographed him in the park, the whole shoot took about 15 mins including tests, I was able to use a reflector which made for a more agile session and I only shot a few frames and knew I had a shot I liked, the one thing you soon learn with digital is that the freedom to shot endlessly means you can spend endless hours editing! I still have the ghost of a film shooter in me and can be quite parsimonious when clicking the shutter, I certainly don't like continuous shooting asI feel like I am no longer in control, though of course it has it's uses.
The other pictures are of  Mike and his dog Pepi and a couple who helps run a dog sanctuary near the airport, this place was in truth, kind of like Bedlam, the smell and the noise was overpowering, these were volunteers who had set up an unofficial sanctuary to deal with the stray/unwanted dog problem here. It is technically not legal, but even so the Police  regularly use it to drop of stray animals.