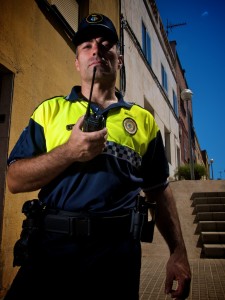 This was an image taken for a story about people working in Barcelona during the sleepy, sweaty month of August. I think one day I will have to do a self portrait for these articles as I the common denominator in all these pictures!
Angel was a nice guy, his wife is English and they live in a sleepy little town outside of Barcelona, I turned up on a broiling sleepy afternoon and was immediately offered tea.
I decided to take advantage of the quietness of the hour to try something outside, it's the classic set up of putting the subject in a shadow and then balancing flash with the strong ambient light, in this particular shot I like the strong shadow on the face, but the magazine would of course have chosen something a little more smiley and anodyne.