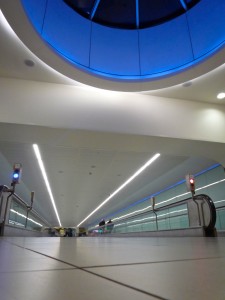 I was flying to Tobago for a wedding (I was best man). The way things transpired I ended up having to stay overnight, having flown in from Barcelona.
The groom (Andy) suggested trying the Yotel situated in the South Terminal, it is one of those Japanese style 'pod' hotels that you can rent by the hour.
I booked a room, but found I had a few hours to kill before I could check in, so, with nothing better to do, I strolled around Gatwick hopping on the train back and forth between terminals, well, the truth is I had hoped to ensconce myself in a bar, grab some food and try to write a best man speech, whilst polishing of the best part of a bottle of Italian wine, but they closed up shop at 9pm and I found myself adrift in this place.
Airports late in the evening are strange. Maybe there are a few people wandering around but the overall ambience is of a well lit and functioning eco-system from which the human population has removed itself. Even the Yotel room felt like accommodation on a space station, with it's clever little ergonomic features and padded bulkheads.
I wandered around, occasionally snapping pics with my compact camera and iPhone, I was not trying too hard to do anything particularly clever or ironic but looking at the images now I do see a curious ambiance that I realise I have dealt with before, when I had found myself alone in a place normally full of life and movement; people in transit or finally where they want to be and enjoying themselves. This contrast for me is captivating and poignant.