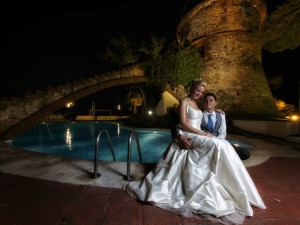 Location: Castelldefels, Spain.
My first wedding in quite a while.
I had kind of forgotten about this type of photographic work, but when the offer came up I actually put on hold a trip to the south to be able to do it, because A) work had been quiet for a while and so a holiday seemed unearned  and B) I just wanted to do it.
Weddings are one of the more scary types of photography a photographer can do, especially if you are working alone, but also they are by the same degree  exciting, and a good wedding affords the opportunity to do a complete project in a day that might normally takes weeks, or more.
If I have a successful wedding I can expect to have maybe 20 images I would add to my portfolio which is not bad for one days work (and 2-3 days post production, because everyone forgets that its the back end of this type of job that requires the most time).
They were a good couple to photograph, very photogenic, as were most of the guests, it felt pretty glamorous.
I met up with Anna beforehand and was surprised to find her instead of relaxing with friends getting herself ready running around arranging various parts of the wedding herself, whilst the rest of the family and the groom were all apparently relaxing by the pool or whatever, she was doing all this and looking like a film-star; I was impressed.
The wedding was in a hotel in Castelldefels and also in a chapel in the middle of nowhere, halfway up a mountain, so i was rushing around a lot trying to be places before the couple.
There was no wedding planner and so I kept finding myself stumbling on events I had not predicted or even remembered (because I was a little out of practice) , This of course added to the excitement/stress levels.
All in all it was close to a 14 hour day with travel but i enjoyed it and came away thinking I can still hack it in this most difficult of arenas of photography.