Arquitecture: Ogilvy, NYC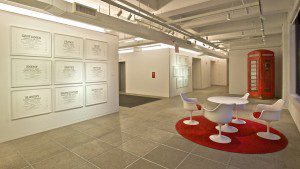 I was lucky, through my friendship with Yeesan, to get access to the Ogilvy building in Hell's Kitchen, an old chocolate factory near the river.
Yeesan worked on the refurbishment, she works for Gensler. Her contact there (Cynthia) was great and very helpful, though, I suspect she thought I might be slightly mad when I suggested doing some roof shots (it was around  -7º with a fierce wind; she may have been right).
I am very interested in photographing architecture and that, of course, is as much about interiors as it is exteriors; It is an interesting discipline, I have learnt a lot about what is acceptable, for examples I have a few shops here that use acute angles and shot looking down which might not work with in the stricter world of architectural photography.
I bought a tripod especially for this shoot, I have rediscovered the joys of using them, this seems like an odd thing to say, but shooting mostly people in very dynamic situations often precludes their use, I am used to having to work very quickly and with the agility of hand holding a camera.
I love how the tripod slows you down and allows you to think, it also removes some of the strain of often having to stretch or contort oneself trying to get a shot. Another reason for using one was because I was intending to try some HDR post-production, or at least having a set of different exposures to comp later. As it turned out not so many images benefited from HDR and I still think all too often it is an over-used effect that produces only superficially interesting results.
Taking these pictures with several hours to do so, without dealing with people was strange but ultimately enjoyable. The time went quickly and I was very much in a zone where I was so focused on what I was doing that when the day was over I realised I had neither eaten or drank anything for probably 7 hours; next stop was anywhere that served a good NYC cocktail and some food!