Barcelona Classic Car Show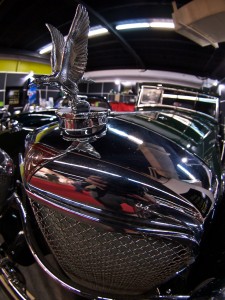 I was invited to go along to the Barcelona Classic Car Exhibition on Sunday and being at a loose end thought it might be fun and yield some interesting pictures.
I decided to also take along my fisheye lens because I have a theory that old things, be they buildings, or even, I was soon to discover, cars, sometimes make for interesting subjects when using this particular and peculiar lens.
I soon learned after buying it what the limitations are, modern perpendicular architecture or anything consisting of straight lines usually just looks wrong, but anything made of curves or fluid lines can sometimes work; in NYC I thought the interior shots of Grand Central Station near the Oyster Bar worked well as the sweeping curves of the ceiling did not look so exaggerated and, I believe, more faithfully reproduced the way our eyes see them, or at least how we remember them.
But we are talking about cars now. The extreme distortion turned old cars in something like the cartoon characters you see in movies and on the TV, I found it amusing how anthropomorphised they became, flexible, soft skinned, belying the truth of hard metal and dead machinery. It is too easy to overdo the affect and I suspect I did, but it was fun.