Castelldefels, The End Of The Season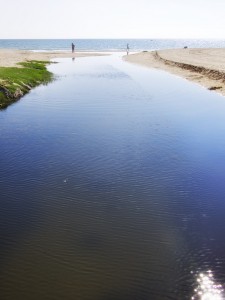 On impulse I hopped on a bus near my place and headed out to Castelldefels.
I have been meaning to go there for a while and a recent wedding in the vicinity reminded me of this.
I arrived and instantly picked up on the holiday town ambiance, Barcelona and even Badalona though having beaches feel like places people live, whilst here it definitely feels more like a resort, maybe a little tacky, but I like it a lot and what I am drawn to, in particular, is the feeling of the 'end of the season.'
The beach was sparsely populated and  for sure you could still swim, so it felt like the last diehard hedonists or late break holiday makers were clinging on to summer;  I regretted not having my trunks with me, so I could join them.
The poignancy of this long, long beach, more haunted than populated inspired the pictures I took, it is a theme I am fascinated with.
The restaurants were quite busy along the promenade but either side of this thin strip, be it the town, or the beach, there was stillness, even the sea was placid. I took some time to eat in a quiet place and have some wine and felt totally at peace, I imagine winters could be fascinating here as well, as it is with most beaches in fact, I still have a dream to spend a month in some such spot and see how it inspires me.