Chiaroscuro in Astypalaia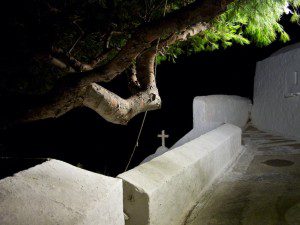 I am not being completely pretentious, using that artistic term in the title, as the island was ruled by Italy for about half of the 20th century, up until the end of WW11.
I learnt this fact one day when walking around the town on a blistering day and came across a little old widow in a worn-out shawl, "like a wizened black olive" I thought, she was gabbling away in Italian; "very curious," then later a local told me that quite a few of the older inhabitants only ever learnt Italian because of the occupation.
I have been to Astypalaia a few times and having wandered all over the town for countless hours felt a little jaded, picture wise.
One night, escaping the kids and couples, I found myself at the cemetery with the sun going down, there was a ferocious wind and a melancholic atmosphere, that only increased as the night came.
That part of the town tends to be quieter than the centre and is a labyrinth of nocks and crannies.
I realised I had found a new muse, and returned several times to try and capture whatever it was that had that inspired me the first time.
I made a point of getting out early enough to get the light just before dusk; in the two shots of the open window with curtain I was able to make it look fairly light, and as a consequence capture the movement caused by strong winds.
Most of the other images are shot during the night and I found myself drawn to the often lurid quality of mixed light sources, consciously stopping the camera from correcting these, often you would get a light, more or less natural, combined with tungsten or florescent (one of my favourites is the one where the fence shadow is cast as green).
It is a fascinating thing how easy it is to escape the hotspots in some places by making a turn down an alley, or dim lit street and find yourself in another world. In Astypalaia this netherworld is the kingdom of a different beast; stand still long enough and the shadows metamorphous into countless feral, curious and slightly intimidating cats, like ink smudges that flow about you.