Diane & Alvaro Dancing Salsa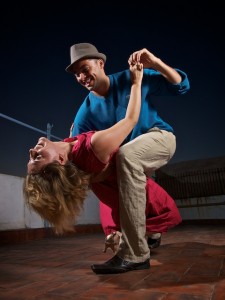 I had to photograph Diane for an interview piece and for a change decided a more dynamic shot would  be fun for this interview section that I do every month.
I have also started a private project and Alvaro is hopefully going to feature in that, So it seemed a good idea to get them together doing something they both love.
I also wanted to experiment a little with an eye to finding a way of lighting people using flash who are moving a lot. I had photographed a guy (John Mckissok) a couple of years ago doing some martial art high kicks and the lighting had worked well for that and I wanted to return to this set up and perfect it (I have an idea for yet another project on sports portraits).
So I got set up and was using this large lite panel for the main light, in part because since buying it in NYC and having carted it to several weddings time or situation never allowed for it's use!
I was determined to try it out on my terrace. The other light was a bare head, sometimes with a grid. I gave D & A a spot to kind of aim for and more or less prefocused (it got very dark and it was impossible to see). When Alvaro arrived he was wearing a white tee shirt which is never a good idea with flash when the other colours are darker, I always shoot flash in manual so the problem is not just exposure going wrong, but the tendency for white clothes to unbalance a shot. I found a jumper of mine that I thought would be a good colour and we got started.
I began with a fast shutter speed but very quickly was down to 10th sec once the sun had completely set. The biggest problem I encountered was that I was getting a kind of double exposure which I can only explain as some kind of ambient light being caused the flash bouncing off other surfaces, it still seems odd though that it should have registered so strongly: we were on a terrace with quite a lot of space.
Anyway as always there is something new to learn. The image above is my favourite but probably won't be used for the article as Diane is not so recognisable.