Editorial Photography: November Magazine Cover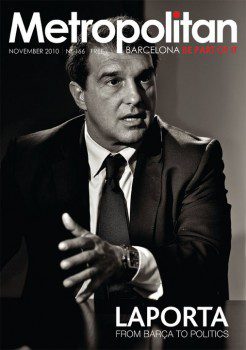 I just saw this on the website and was quite pleased.
I had sent them a selection of images, including a couple of B&W I had done for myself that I did not expect to used. I shot them like this because I was revisiting a style of lighting I had played around with years ago back in the days of film, I had been studying lots of photos shot in the 50s and 60s of film stars and wanted to try something similar, there was one particular shot I did of a friend wearing a suit which was definitely in my mind when taking this one.
Another thing is that this shot is a quite 'hard', in that he looks rather angry when in fact he was very friendly. I wonder if the recent trouble with the finances of Barcelona Football Club and the upcoming Catalan elections affected the choice, because he definitely looks in combative mode.
I have now seen an actual copy and was disappointed in the print quality, way too dark and 'muddy', it looks much better here, well, on my monitor anyway.