Industrial Photography at the Forum with Barcelona Raw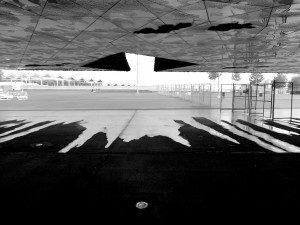 This was the 4th excursion for the group Barcelona Raw, which I set up the beginning of 2009. We decided to return to something more industrial and brutal after our trip to Montjuic where we messed around doing portrait shots.
We arrived just as the rain was easing off but it would keep returning sporadically throughout the afternoon.
It was also pretty cold with the wind whipping in off the sea over the exposed expanse that is The Forum. This place always has an air of desertion (apart from when there are events of course and these are in the evening, when the place feels a little less austere).
I must admit I was not feeling to thrilled by the day after having cycled there in the rain, and as always when I doing these events, I am sometimes on call to help out with certain technical issues and so can't really concentrate on my own shots. However, once everyone went off to do their own thing I soon found plenty of inspiration.
I was particularly fascinated with the industrial interiors where the rain was entering through openings in the ceiling, it looked very desolate and grim and suited the day well!
I also love the picture above with the sun catching the rivulets of water, that almost look like blood at a crime scene and the reflection on the metallic drain in the foreground relieves what otherwise be too much blackness in the shot. Almost always with very wide-angle shots it is a good idea to have some foreground element to pin the composition down.
All in all a successful day but I was glad to get home and warm up!