Greek Islands, a holiday heaven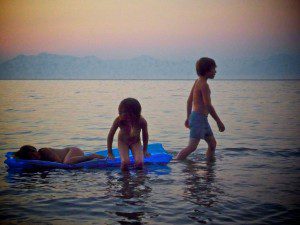 My friend Andy decided to take the family somewhere different this year, usually Tamariu on the Costa Brava is the favourite annual holiday destination.
For me, now living in Barcelona, the chance to catch up somewhere new was greatly appreciated.
The first week was in Corfu and despite its touristy reputation it was great, mind you we had a cool house well away from any towns, with a couple of beach restaurants within easy, a short work along a lovely beach.
I was very lucky to get the annex which was an old fisherman hut right on the sea. The sea was literally at my window and even with the waves that eventually reached me from the ferries far away, on their way to Albania and the like it, was very peaceful.
The second week was spent in Paxos which is a very green island and belies the idea of Greek islands always being arid and rocky. One day I was walking and came across a pebble beach just as the sun was setting, it was deserted and the light was exquisite, there were no houses or people and I sat there for a while and went for a swim. The next day we returned at the same hour and enjoyed the sublime light, though with the kids the peace was, perhaps, not quite so evident!
I had not been to Greece for many years, since a solo trip to Crete, and was really bowled over by it all, the people, the peace, the incredible light, the sea, it is great that there are still so many places there that are not overdeveloped and  cynically tourist hungry.