Harvard Business School, Casablanca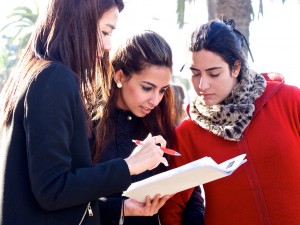 Back in January I flew to Casablanca to take photos for Harvard Business School.
Basically they had several groups of students there who were working on business proposals and as part of the assignment they had to essentially interview people around the city for market research.
So an interesting challenge, with added language and cultural hurdles to overcome. The groups were of mixed gender, so theoretically it was easier for females to approach women, but even so, from my vantage point (more on that later), I noticed that a group of clean-cut foreigners, approaching local women, did seem to bring out proprietorial traits in the men.
My job was to try and capture the interactions in as natural a way as possible, ideally the subjects would not know I was taking photos or at least be relaxed about it. My problem is that I am about 1.89m tall and blonde, so I kind of stuck out, even without waving a camera around. But you can become good at vanishing; it's amazing how almost anyone can blend into the environment with a little practise, there are some tricks you can use of course, but in essence it's about body language.
Luckily the support team was very helpful and I spent most of the day with Christine Ferro and a minder/translator and several times I made use of them to cover my shooting.
As with most jobs, after a couple of hours you learn the limits of what you can do and relax, so towards the end  when dealing with younger people I was able to shoot freely and closer in.
It was a satisfying job, I liked the work in the Medina, where space was cramped and you had to be on your toes, but all the angles and dramatic lighting threw up lots of interesting compositions.