Homage to Catalonia? (A Touch of Gaudí in Texas)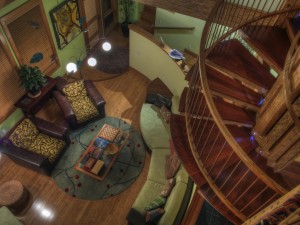 A little side job I had whilst in Texas (for a wedding shoot) was to photograph the house that Zack built (He was the groom and designed it as well).
I stayed there for about a week and in a few sessions took photos for a book they wanted to make.
It was an enjoyable project; though most of my work is with people (and that is what I like to do most), architecture/interiors is a close second.
What I love most is the change of pace, the thoughtfulness of the exercise. You should use a tripod, not for the obvious reasons, but because it too slows down the process and any excuse for this Zen like approach, in the modern world, has to be cherished.
I am not really being flippant though, these kind of projects benefit from preparation; getting as much right in the camera as possible and most definitely shooting with whatever post-production workflow you have in mind.
The are several recurring motives in the design of the house that appear, you could say (even if it's not technically correct) on a macro and micro scale. The common denominator is plant structure; supports look like tree limbs, tiles show representations of microbiological details of leave structure etc and the palette is predominately of greens and browns.
I was very impressed by the attention to detail, there were lots of 'games' to be played I reckon exploring and trying to find the not always obvious inspiration for certain objects (a fun learning game for kids, beats looking for Easter eggs the whole time).
I particularly liked the story of the exterior walls and the experimentation that was needed to get the right texture that mimics the roughness of tree bark, apparently the ended up throwing the plaster of a particular consistency at the wall, rather messy I was told.
If I was to be perfectly honest I am not the biggest fan of Gaudí, Zack's interpretation however I like a lot, it has none of the excess and creates a much warmer, comfortable environment and does it in a much more subtle way as well. Though when you walk around the idyllic neighbourhood they live in with its detached custom-built houses it most definitely is the one you will notice first!