Isabel Coixet, Film Director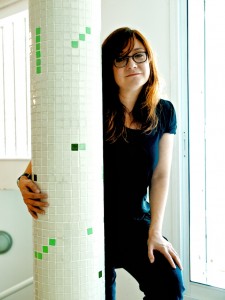 Isabel Coixet is a well known film director, I was photographing her at her office in Gràcia for a magazine piece. She had just released a new movie called Elegy starring Penelope Cruz and Ben Kingsley.
She was being interviewed whilst I got some pictures and set up lighting, I had just got a new flash gun and had not really had a chance to do much experimenting with it and it is fair to say that doing so on a job is not always a good idea!
The bloody thing had a mind of its own. Even when set to fully manual which is how I prefer to shoot it seemed determined to output twice as much light as was needed for a fill; the studio space was quite bright and really did not need much else.
Once the writer had finished I got about 30 mins to do some more posed shots and have a chat. She was very friendly and we discussed 'On Chesil Beach' by Ian McEwan which I had noticed on her bookshelf and had just finished reading.
The shot I have here was not the main shot used in the magazine, but this is the one I prefer, as she was quite relaxed and amenable to trying out poses other than the usual stuff and this one is quite playful I guess.
I asked her for Penelope Cruz's phone number for a laugh but she was not forthcoming, it's funny but she is the second person I have met recently who knows her, the other one is a kind of friend who was her fitness instructor on another movie, he told me he spent more time driving Ms Cruz's mum around Madrid than training her! There you go, some show biz gossip.