Joanna Mills, Irish Runner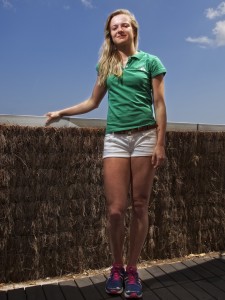 In the run up to the Olympic games in London I got a call from a guy who I had worked with in the past, he is a sports journalist and the last time we met was at the Marathon in Barcelona where he was helping to promote the marathon in Belfast.
This time he was working on a story about Joanna Mills, a contender to represent Ireland in the 400m  and the relay, there was however a cloud hanging over this because certain governing bodies had made a complete hash of choosing the final team which then led to appeals, so that Joanna and her rival where left hanging as too who would go forward.
Joanna was in Barcelona taking part in an event on Montjuic but it was obvious this mess was hanging over her, but still she was lovely to work with and a great girl. Her father was her manager and minder and he was, let us say, a little more like an attack dog waiting to pounce, but I still managed to get him to hold a reflector and hopefully convince him my intentions were honourable.
Because there was a film crew there as well my time was severely limited and conditions were  far from ideal with strong sun, a strong wind and precious little shelter on the hotel roof to help.
I am satisfied with what I got, it may not be the most flattering image but because of the hard light, but when you are that young it's not such a big deal.