Kiely Sweatt, American Poet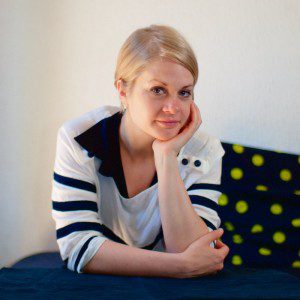 Another interview shot, this is my personal choice and as if often the case I make a point of shooting some frames composed the way I want. In this example I was experimenting with this particular cameras ability to let me use different formats. I love the square format, a hangover from my days of film and medium format cameras.
Kiely is an interesting character, she runs a poetry group with a twist, they create a bordello type event called The Poetry Brothel. I got talking to her and now have in mind a personal project photographing these guys with an eye to possible magazine articles. I like the idea of a slower way of working, hopefully shooting the people concerned over a longer period of time more or less as individual shoots.
This picture is not the one used by the magazine but the essential lighting is the same, I liked the ambient light and did a gentle fill with a flash and brolly. The other thing I liked was the kooky mix of stripes and spots, maybe something one tries to avoid in fashion but it appealed to me for this image, also we wanted a portrait of her looking totally different to her alter ego at the Poetry Brothel.