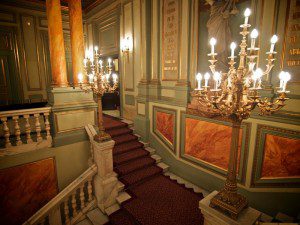 These pictures were taken as part of a series about supposedly haunted places in Barcelona…
…Anyway, as always it was an excellent excuse to get access to places not normally that easy to see.
I managed to get through the usual bureaucratic labyrinth and met a nice woman who said I could have 20 mins in the early afternoon to get some shots.
Not a lot of time and there was plenty of interesting shots to do. She told me that the behind the scenes areas were now very modern and not of interest and she was not particularly impressed with the ideas of ghosts either.
When it came to post processing I tried to add a slight ambiance to maybe enhance the spooky element and quite liked the effect.
The only annoying thing about this and one of the other shoots I did for the story was that when the people saw the images they were very enthusiastic and asked if they could use them, I suggested that this would be possible if there was perhaps some future potential to do work for them, which they intimated was possible and to get back to them after the summer holidays. Of course come September and many emails I got not one response but started seeing copycat images appearing!