Mark Redden, Boat Builder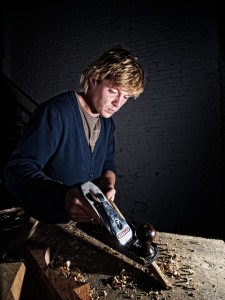 I am posting this image because it got me some work!
I was contacted recently about a job in Geneva. Elena (Brain Bazaar) cited this image as one she particularly liked, I had completely forgotten about it, but remember the day quite well, not least because about a year later I was photographing a girl (Marcela) who has a studio next door to his and when I arrived there I was having extreme Déjà vu before the penny dropped and I remembered I had been there before.
They both have these huge spaces in Poblenou which is a place full of old warehouse and industrial spaces, now very popular with artists and the like.
Mark was being photographed because he does wood working and in particular builds Currachs, a traditional Irish boat. He is also an artist and I got the impression he would preferred to have been photographed in relation to that, but quite frankly artists are ten a penny these days, whereas boat builders are less so and therefore of more interest.
He was quite circumspect and I saw little point trying to do a 'smile at the camera' type of shot (which quite frankly I am happy to avoid when possible), So I got him doing some work and concentrated on getting a light style I liked; a simple set up of off-camera flash used without modifier and a silver bounce reflector to camera left giving lots of fill, the flash was enough to give me a little of the background as well.