Modern Buildings, Poblenou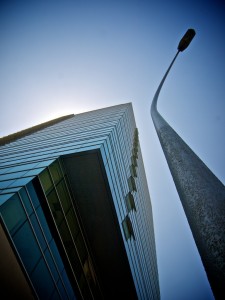 These pictures were shot for a story about the modern architecture of Barcelona, the idea of the story was that the traditional inclusion of things like balconies had stopped and the facades of most buildings are now sleek and brutal.
The editor asked me to get shots of buildings looking ¨knife like and stabbing at the sky.¨
This was pretty easy todo and yet again I found that what holds for most photography is not necessarily the same when it comes to modern architecture; shooting around midday under a bright sun often yields good results. The thing about such buildings is that being so reflective is that even the shadows get lit and the natural penumbra of the light in the sky, due to the sun´s position adds a type of vignette.
The one thing I did discover was that far from there being no buildings with balconies there were actually rather a lot and finding the sort of thing they needed was not so easy.