Pau Estrada, Graphic Artist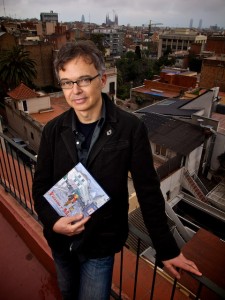 An interview shot that needed space for text as always. I actually did not worry too much about this when shooting this image as I really liked the background and the colours and knew the magazine would just fade it out or as it turned out apply a somewhat weird pinkish wash…
I have learned not to be too precious about such things, as long as I have an original I like and hopefully, the subject as well.
Pau is an illustrator and has recently published a book about Picasso, or more accurately his pet cat Minou!
We did the shoot on his roof in Gràcia. Typically in Barcelona roof terraces are the spaces rarely used by the inhabitants of the city and when you get up there you are most likely to find dead pigeons, dirt and junk. I just don´t get it, such a waste and as in the case of Pau´s roof terrace the view was great.