Profiles: Venus O'Hara, Writer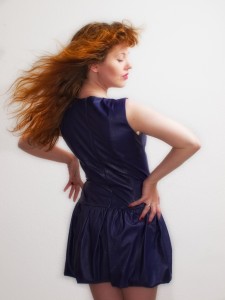 Venus O'Hara has an interesting career, it might be best if you go to her  website to find out more, I could try to explain but, well, maybe not…
We both agreed that this shoot would be tame because it was for the magazine and also she wanted to do something more a kin to a fashion shoot.
I had an idea for another experiment with lighting, something shadowy and moody but it just was not happening and also I wanted to do something with a white background as the last few had been pretty dark.
So I got rid of one of the grids, swapped it for the trusty shoot thru' and on the other light, still with grid, I put  a gel to really maximise the colour of her hair. I used a ring light to fill the shadows.
She was very easy to work with and understood how to play to the camera, it was a fun shoot. This was all done in her living room which was quite limited, space wise and also there was a lot of natural light with I was determined to eliminate.
I am tempted to mention some of the many and varied subjects we touched on whilst working, but it's late and I am not sure I have the patience to try and find the right way to couch what was said in a way that is not too salacious, or likely to titillate or shock!
Very interesting though. She writes for GQ magazine, amongst others, so if you are curious take a look and judge for yourself.