Lea & David Wedding, Misterton, England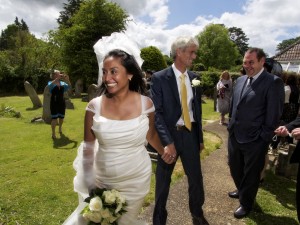 Another month another wedding.
There was an again an American element, The previous month I was in Texas (which will be posted soon). The bride Lea is from the States and her husband is from the UK, I got to do this wedding thanks to my good friend Yeesan who lives in NYC.
Luckily it was very close to my usual base in Bath, so a nice drive through the countryside was one of the perks of the job, as well as getting to stay in the venue for a couple of nights (The Grange, Oborne). All of these elements combined surely represented to the US visitors a bucolic vision of Britain that rarely exists outside of the movies, or period dramas from the BBC.
I pondered all this whilst whizzing around the little country lanes, lined with hedgerows and dry stone walls, while every rolling horizon seemed adorned with cotton-bud sheep; an ironic retort, perhaps, to all those Osborne bulls in Spain.
The wedding took place in a tiny church maybe 30 km away and there was some crazy driving trying to be in 2 places at once. The locations were not well served by Google, but luckily I managed to work out where the church was in the village by using the satellite view and finding what looked like tombstones!
This preparation served me well, I did not get lost, unlike the bus driver, who, it must be noted, was a local.
It seems like a while since I did a wedding that basically followed the traditional form, so I was quite at home working at the church. The rules regarding photography were pretty relaxed so I set up a light on a stand to give some drama and then moved around pretty freely.
The weather could have been a problem as it was pretty skittish and the sun was coming and going constantly, there was even a touch of rain as well as a very lively wind; all these things can play havoc with photography OR present you with great opportunities, some of the images with the veils flying make for pictures I find both funny and also very aesthetically pleasing and having picture perfect clouds in a blue sky is just what every American might expect, I guess, of an English summer.
So, a very enjoyable wedding to do and a charming couple, who, I suspect, I may see again; give me any excuse to visit the states and I am there!