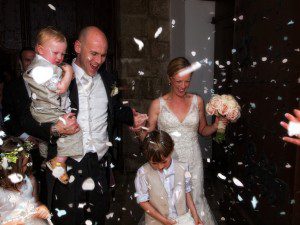 This was my first job since returning to Barcelona after being in Buenos Aires for a month. I had been back in the country less than 2 days and was still feeling jet-lagged, luckily this meant that a certain other wedding in the UK on the Friday pretty much escaped me even though it was featured in every newspaper and television on the planet.
So, on the Saturday with the what felt like the whole world except me still obsessing about it, I headed to Sitges to do a half day photographing Aisling & Colms wedding.
It was a beautiful day and, as always, I arrived with sufficient time to check out the church and figure out the lighting etc. After  a 20 minute I was finally given access from a caretaker. All was all going to plan except that he let me set up on a balcony overlooking the aisle and altar only to then be told by someone else that access to that area was not permitted, which kind of messed up the possibility of some nice shots, I was also beginning to suspect this guy might not be sharpest tool in the box.
At around 12.45pm I asked him if I could get out to get picture of guests, I assumed would be arriving outside, but he said he had to light some candles first and then sauntered off to do god knows what; I was getting a bit stressed.
At about 12.55 he finally got out a big ring hung with medieval keys, each the size of a shovel and the great wooden door creaked open. I escaped, to then only flounder blinded, for about half a minute trying to adjust to the ferocious midday sun bouncing off just about everything.
Very tricky and harsh lighting, the flash was only just capable of competing with it, and it being midday there being no shade in front of the church which was problematic. Normally you get your subjects to face away from the sun or put them in shade but the bright light was coming from all directions and causing a lot of squinting.
The service inside, fortunately, did not suffer from this and I had set up a general light to cover the altar and also had a flash with me which I hand held.
After this we did pictures on the esplanade, in front of the church and by the sea and eventually headed off to the masia (country house) where the reception would take place.
The light was still very strong but it was more directional now and also the place had shadows and was lovely to boot, with a pretty decent view over the country side.
I was only doing pictures up till the meal and then headed home. Usually after a wedding you can feel a need to unwind, it is maybe, like a performance and the temptation is to have a few drinks to unwind, I, however was starting to flag and was looking forward to an early night. What a party pooper, or maybe I am just getting old?