Working at Home: L'Adresse, Hair Salon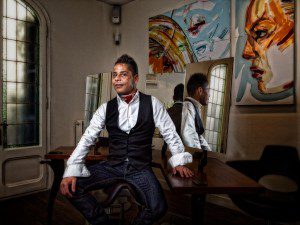 This was my third shoot for the proposed article on people who have businesses set up in their own Apts or have converted a private residence to such an end.
Damian's place is of the latter kind, a lovely building in the L'Example barrio of Barcelona. He has a rather select and prestigious clientele, one who, whilst I was taking pictures, definitely did not want to appear in the photos.
Damian is French and before arriving here had lived many years in New York, it's funny but when I meet people like this, who, like me, absolutely love that city, you feel their wistfulness, and ambivalence about leaving.
I have only visited but would love to have a month there, I also know living there now would probably be a bad idea, cities like that can eat you up and spit you out.
So now Damian is here with his very elegant salon, there was lots of nice details, both personal and with design in mind and the tea he served me was so prettily presented I had to include in several of the shots.
He was very accommodating and let me work whilst he dealt with clients, it never ceases to amaze me that people like this who have no doubt had so many people traipse into their salons, etc for magazines, newspapers and the like, are so polite and enthusiastic, I am sure he does not really need much more publicity.