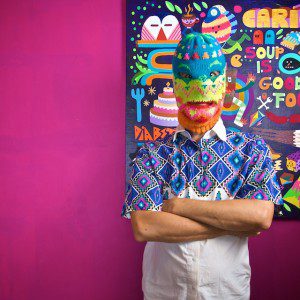 This was another interview page shoot. Zosen is an Argentine artist with a growing reputation, we had to do this shoot on short notice because he was off to London where he had an exhibition starting. He wears the mask to stay anonymous of course and luckily it was a riot of colours and the way the top half of his shirt fitted the framing was perfect.
This was not the shot or framing I did for the magazine, this was strictly for me, the way I thought it should be.
We were doing the photos at a Mexican Gallery called Como me ves, te Verás, the owner is called Alvaro and he was a nice guy, they do all sorts of cultural events and I am determined to visit more often, apparently the Mexican restaurant next door is good as well.